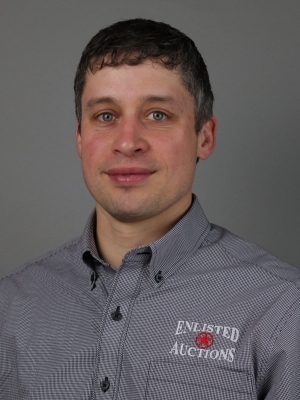 Kervin Yoder
Kervin and Karla, along with 3 mischievous boys, are the owners of Enlisted Auctions. Kervin started with the company over 10 years ago when it was owned by the founder, Ben Yoder. Through the years he grew into the Chief Operating Officer and then purchased the company in late 2019.
Kervin's role in the company includes managing daily staff activities, doing consultations for new clients, and business development. His sons can frequently be found helping out in one of the galleries.
His distinctive touch with our customers and clients helps provide that personal connection that makes Enlisted Auctions a success. His extensive experience allows him to find unique solutions for difficult situations.
Kervin won the Virginia Auctioneers Association, Outstanding Auctioneer of the Year Award, in 2019.
He placed 2nd in the 2017 - 2018 Virginia State Champion Auctioneer Contest.
He also won the Rookie of The Year Award in 2015.
---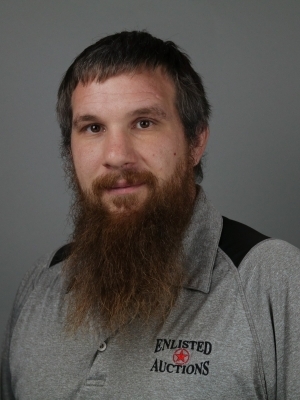 Victor Miller
Gallery Manager - Cold Springs
540-337-3446
Victor is an avid outdoorsman that came to Virginia by way of Wisconsin. He enjoys hunting and anything associated with it. The array of trophy mounts in his home tells a lengthy tale. We think he got them at the swap shop, but he tells a different story.
He, his wife Anna, and their four children live in Stuarts Draft. The team always enjoys the occasional visits from the little ones.
Victor's main responsibility is managing the galleries at Cold Springs. This includes set-up, photography, cataloging, previews, and pickups. As you can tell, he gets his hands dirty with almost every phase of the process. We enjoy the humor and strong work ethic he brings to the team.
---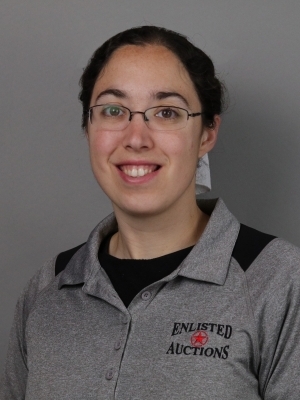 Elizabeth Showalter
Gallery Manager - Tinkling Spring and Set-up & Packing
540-337-3446
Elizabeth's smile tells you just about everything you need to know. She always has a smile and we have yet to hear a complaint from her. Her ambition and fun-loving nature are a motivation to the team members lucky enough to work with her.
Elizabeth's job includes being the gallery manager at our Tinkling Spring location. She lead the packing and set up crews. She also routinely gets called upon to assist with taking photos in our gallery auctions.
We all appreciate her never-ending efforts to become better and more efficient at her job.
---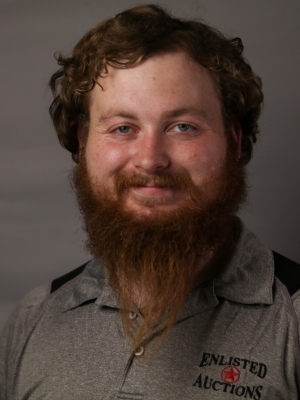 Donovan Miller
Transportation
540-337-3446 Ext. 6
Donovan is on the Transportation team for Enlisted Auctions. This guy can move just about anything you need moved and is a man amoungst boys when it comes to efficiently packing a trailer.
Donovan handles nearly all of the transportation needs as well as the photography for our firearms, coin and currency and real estate auctions. He is the go to man for coin questions and photography questions.
His willingness to do whatever is asked of him, work long hard hours, and keep coming back for more each day, have made him an invaluable member of all we do at Enlisted Auctions.
---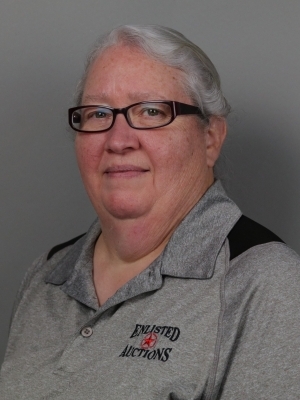 Sadie Yoder
Facilitates Pickup
540-337-3446
Sadie has a wealth of experience and expertise in the auction business. She is often found at the cash register greeting customers with a warm smile when they arrive to pick up their items. She takes the time to know customers on a first name basis and is always ready to help! Sadie is always quick to lend a hand in whatever capacity is needed to get the job done. Her work ethic is a real gem in today's marketplace.
She is responsible for training and coordination with the other set-up team members. The level of shenanigans tends to be a little higher when she's around. Although she hasn't gotten in trouble yet, we do have to keep a close eye on her.
---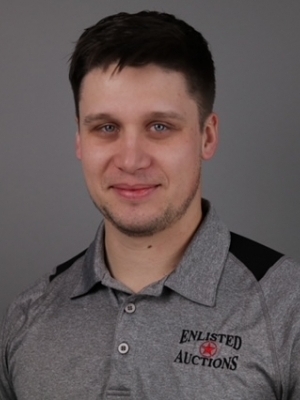 Sheldon Yoder
Director of Marketing & Customer Service
540-337-3446
Sheldon is our Marketing Director. He coordinates and implements the marketing for all of our auctions and holds the national Auction Marketing Managment certification. He also does customer care and answers any questions bidders might have.
Sheldon completed his Associate's Degree as a Registered Nurse from Blue Ridge Community College in May of 2020. He enjoys interacting with our customer's and finding solutions that fit each customers needs.
---
Suzanna Burkholder
Suzanna's main job is photographing all the items that you on the website. She is very detail oriented and does a great job with capturing each piece to accurately portray them to our customers. You will also see Suzanna during pick up time at our Cold Springs location running the checkout booth for either the Cold Springs or Hidden Treasure Gallery. She is a joy to speak with and is glad to assit our customers in finding the items they purchased and ensuring a good experience!
---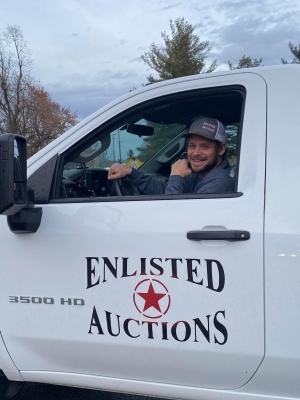 Brian Yoder
Transportation Manager
540-337-3446
Brian is the Transportation Manager for the Enlisted team. He is on the front lines when Enlisted arrives to load up your auction items or handle your move. He has an eye for the details and takes the time to ensure each customer is served to the best of our abilites.
Brian enjoys spending time with his wife and their two children. He also enjoys wood working projects and doing small home repairs/remodels.
---
Lea Kosheru
Packing, Set Up, Photography
Lea is on our packing and set up crew. She works along side Elizabeth in packing up estates for auction and/or moves. She also assists in setting up the items in our gallery and taking the great photos you see on our website. Thank you Lea for all that you do!